Lomig Guillo

Published on

Updated
Confinement requires, many employees must work from home now, and probably for more than a month. A situation that can sometimes be complicated to manage for those who have children or who live in a small area. Workspace, exchanges with your colleagues, physical activity … Management has concocted a mini telework guide for you. You will find five essential recommendations to follow for better teleworking.
1. Create a real space!
"We don't telecommute where we sleep or where we eat," said Manal Rachdi,
architect specializing in site hybridization. "Of course, some people live in small spaces, but even there it is possible to create different areas: for example, if you only have one table, do not sit on the same side for eating and working! " And, if possible, sit in front of a window so that you can regularly look outside.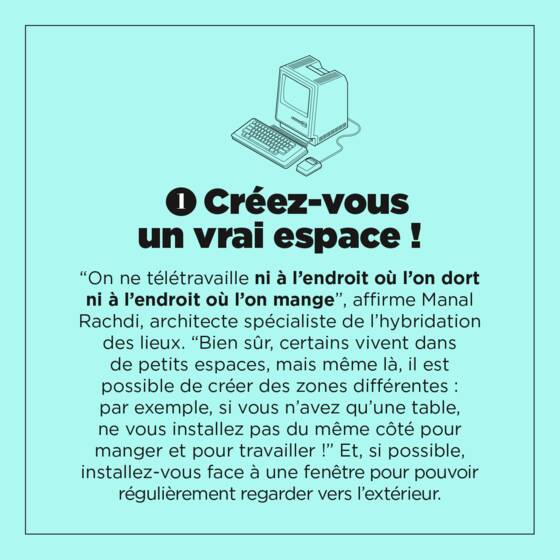 >> © All Rights Reserved – Refusal of telework: these strange arguments put forward by employers
2. Say "Hello" and "Goodbye"!
In the morning, start the day with a quick chat or exchange by email or phone with your colleagues, your team. No need to spend hours on it, but report that you are there, pick up and share news, let them know you are ready to start the day. But also signify when it is finished.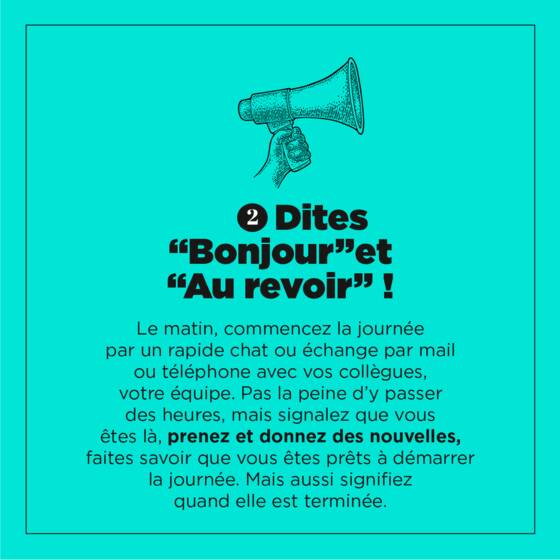 3. Move regularly!
Get up when you have to call, for example. Take breaks at least every 40 minutes and walk, even just a few steps. Sports coach Christophe Ruelle recommends a simple exercise: "Sitting or standing, raise your arms crosswise, shoulders relaxed, then stretch them backwards by squeezing your shoulder blades. Then let them return to the initial position, slowing the return movement. It's great for working your back and shoulders and improving your posture. "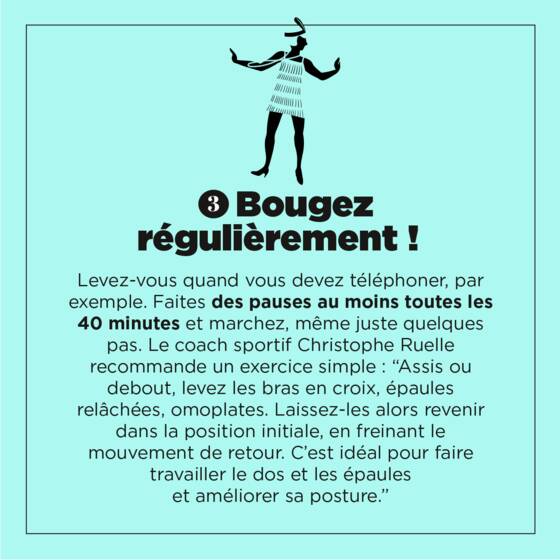 >> Our service – Find the professional training that will boost or redirect your career thanks to our specialized search engine (Commercial, Management, Project management, Languages, Health …) and get in touch with an adviser to guide you in your choice.
4. Be connected … but not too much!
Keeping in touch with colleagues, his team is
important in these times of confinement. But don't overdo it either: disconnect at lunchtime, for example (unless you want to share a "virtual" lunch with colleagues, but to talk about something other than work). Set schedules and rules.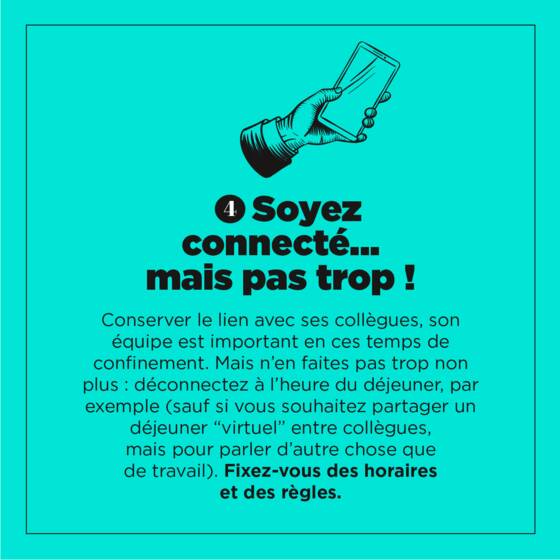 5. Don't try to pretend everything is normal …
The situation is exceptional … for everyone. Habits are shattered, goals are
upset, so are lifestyles. Everyone will understand if a child or cat breaks into the camera's field during a video conference. Above all, do your best but do not try to pretend that everything is normal. "We should not try to do things as before… but take the opportunity to invent ways of doing things afterwards!" offers Pierre Blanc-Sahnoun, executive coach.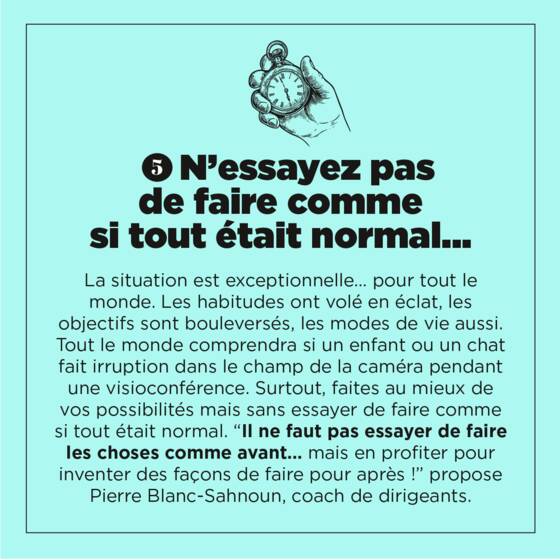 >> More advice every day in our news, the Telework Journal to listen to on all podcast platforms. Or here !